THE INSPIRATION
When we were asked to construct an Asian vignette for the AFR National Networking Tour, we wanted to showcase a different look along with featuring new collections that AFR was presenting to their clientele. We wanted an area that was intimate and peaceful - a distinct step into a unique environment different from the rest of the space. The Hayden Collection "spoke" to us with its lovely clean lines, dark wood and flexibility. Taking a step back from the ordinary we were able to design an environment that was worlds away from the norm. Welcome to Asia – EventFX style.
THE DESIGN
To create an intimate dining lounge, we draped the perimeter of the space in black with a black sheer over drape on the sides for a more dramatic look from the outside and creating a mysterious allure to attract more guests. Desiring a Zen-like ambiance we laid a long bamboo mat under down the center of the space to create a foundational element to build on. The Hayden bench inspired us since it was the perfect table height for floor dining. So rather than using it for traditional seating, we created tables out of several benches to form a long low-lying Asian King table and surrounded it with 18" x 18" black pillows. Since everything about the design was non-traditional we decided to forego the traditional bright red color accents associated with Asia and instead go with smoke mirrored boxes with glowing candles to give the illusion of Infinity and then finished them with fresh orchid heads. For the buffet we used a standard height Hayden table and placed a life-size Buddha on a high riser and surrounded it with candles. All together the design shaped a peaceful and striking vignette that presented a new take on Asian decor in an elegant and authentic way.
THE DESIGNER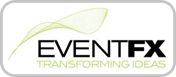 EventFX is an award-winning event design, decor and production company specializing in weddings, social events, bar and bat mitzvahs, corporate, political and non-profit events. For more information, please visit our website at www.eventfx.biz or by phone at 484.540.8290.