THE INSPIRATION
For this very special wedding, we wanted to blend traditional elements with a style that was chic and reflective of our couple's personality. As former equestrians and from a line of equestrian professionals, the couple selected the International Polo Club in Wellington, Florida as the perfect venue for their wedding reception.
The Club's pavilion is reminiscent of old "polo club" elegance with the beautiful dark wood found both on the paneled walls and the floors. Rustic chandeliers and fireplace add warmth and character to the space. Floor to ceiling French doors look out to the lush green expanse of the polo fields. Pulling inspiration from the couple's personality, their heritage as well as the equestrian flavor of the venue, we were able to effortlessly blend the traditional and contemporary décor elements to create a reception that suited our couple's wedding vision and style.
THE DESIGN
We used a white foundation to create a style that was non-traditional and elegant; and at the same time, soften the dark wood elements of the pavilion without altering, but enhancing, the look and feel of the it.
As a focal point of the pavilion, we created a main lounge by using sleek modern furnishings and cubed ottomans; they were complemented with illuminated acrylic cube tables and topped with simple floral arrangements. We further enhanced this lounge area by displaying a living tree in the middle of lounge. The tree rose from the floor and added a dramatic flair that visually was not overwhelming but rather added an enchanted and whimsical edge. This beautiful and creative approach not only added volume to the venue but clearly created a "wow" factor that was sure to please everyone.
Around the main lounge, we placed guest tables that were beautifully draped in gold colored linens and surrounded by antique gold colored Chiavari chairs with ivory seat cushions. Using the couple's favorite flowers of Callas and Orchids, we created elegant and sophisticated floral in tall cylindrical glass vases to finish the tablescapes. For a final touch, we illuminated the tree, cubed tables and the venue with warm amber lighting to create a subtle glow. After the wedding, the tree was planted at the couple's home in Florida with a descriptive plaque in honor of the first day of the rest of their lives.
THE DESIGNER: JUST BECAUSE EVENTS –
"A WEDDING COMPANY"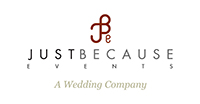 Just Because Events is a wedding planning company that provides coordination and management services to bridal couples that need a "hands on" professional to guide them through one of the most important moments of their lives. Whether it is a destination-wedding package or a full-service wedding planner you are looking for - that is where Just Because Events - "A Wedding Company" comes in. We will assist you with all your wedding planning needs, so you can relax and enjoy; but most importantly, play the most vital role – that of hosting your wedding.
For more information about Just Because Events – "A Wedding Company", please visit us at www.justbecauseevents.com or give us a call at (305) 898-5566.