THE INSPIRATION
Encountering a blank canvas in the heart of Midtown, Miami scenery opened a door to endless possibilities from a conceptual design perspective. The venue, Maps Studio, with its unorthodox indoor-outdoor loft feel and modern design tendencies, unleashed our creativity and lent us the ability to step out of preconceived tonal structures and provide a setting that was strikingly unique. The flexibility of the space allowed us to create a luxurious design experience that set the mood for the evening.
THE DESIGN
The design crafted itself by bending the venue limitations, created a corporate identity for our client. We brought indoor elements outdoors recreating a large atrium that doubled as housing for our three colossal deer antler chandeliers and provided the frame for our massive twenty-four foot long Memphis table. The antler chandeliers both brought to life the warmth and homey feeling of dark wood of the table. We completed the design by adding an architectural feel to it by outlining the setting with the Marcus bar stools. Modular low lying centerpieces in with pops of color brought the colors of natures' floral and fauna right onto the table tops.
THE DESIGNER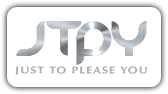 Just To Please You (JTPY, LLC) is a progressive company committed to presenting cutting edge trends, fashion and sophisticated service to our clients. Our title encompasses our "Mission Statement" by offering the consumer an experience that is all about our customer, their occasion and their guest experience.
Our expertise combined with our focus on detail, provide our clients with the best selections and underscore our ability to provide the perfect environment and transform a concept into reality.
For more information, please visit our Website at www.justtopleaseyou.com, stop by our Facebook page at www.facebook.com/justtopleaseyou or phone us at 786.357.4888