THE INSPIRATION
The challenge was to completely transform an existing traditional ballroom into a sleek nightclub for a client's wedding reception. With the couples love for South Beach nightlife, the inspiration was to create a clean and modern looking South Beach Nightclub ambiance that was stylistic and modern that still lent itself to the romantic feel of a wedding.
THE DESIGN
To transform the room, we started by completely draping out and carpeting the entire space in white and using a combination of white, acrylic and silver furniture pieces. With seating, it was very important to make guests feel like they could mingle around freely as if they were at a club. This was accomplished by using a mixture of lounge seating and high top communal tables. The focal point of the room was the sleek white custom monogrammed dance floor in front of the stage that was flanked with two intimate high-backed lounge groupings for both lounging and eating. For additional seating, we mixed the high top communal tables with barstools as well as smaller Zinc high tops around the two curved walk up glow bars on both sides of the room. The look was complete with vibrantly colored floral and accessories to bring in that high energy South Beach flare.
THE DESIGNER: Anna Lucia Events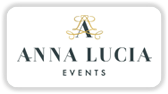 Recently named a Top Planner by Martha Stewart Weddings, ANNA LUCIA EVENTS is an Exclusive and Full Service Event Planning and Design Studio specializing in weddings, social and corporate events. For more information about ANNA LUCIA EVENTS, please visit our website at www.annaluciaevents.com or give us a call at 888.503.6171.
PHOTO CREDIT: Hunter Ryan Photo